Model : Laser + R7

Suction Pressure: 2000pa
Battery Capacity: 3000mAh Li-ion battery
Water Tank Capacity:350ML
Dust Box Capacity: 600ml
Robot Size: 330mm Diameter * 96mm Height
Robot Weight: 2.7kg
Working Time:About 100-120mins
Charging Time: 5 hours
Rated Voltage : 16.8V
Rated Power : 28W
Noise (dB): <65db
Over Obstacle Height: 1.5cm
Cleaning Area: 200m*
Mopping Area: 140m*
Net Weight (Main Unit) : 2.7KG
Gross Weight: 5.6KG
---
* Accessories Set - Side Brush, Mop Pads x 1 ( Worth Rm 55 )
【Enjoy 1 Year VIP Warranty Service】
Free diagnosis, service and repair
Free return shipping (West Malaysia)
Free spare parts exchange (internal chip, motor, etc.)
Non-applicable for human fault (broken, crack, etc. )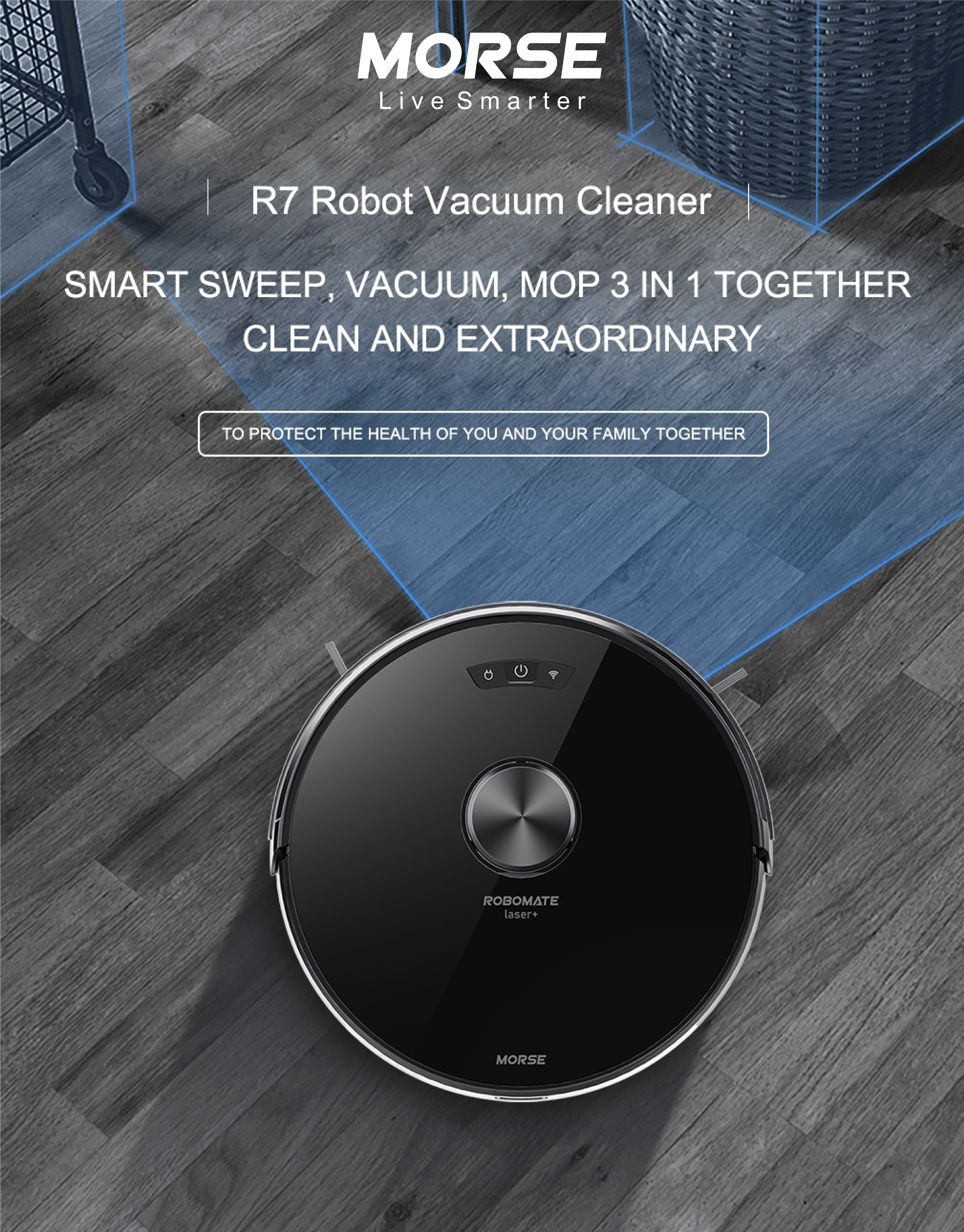 扫地机使用注意:
Please take note of the following when the sweeping robot is in use:
长时间充电会影响电池寿命, 建议扫地机务必不要过夜充电。

Charging for a long time will affect the battery life, thus we're recommend that the robomate must not be charged overnight .
扫地机的水箱只能加入清水,不能加入任何的清洁剂或药水。

We do not encourage the adding of cleaning detergents / floor cleaner into the water tank as some of the detergents may blocked the water outlet and the performance of the moping function may be affected.
扫地机适合清扫平坦硬质的地面 (瓷砖/大理石/木地板/短毛地毯等等)不适合家里有长毛地毯的用户,长毛的地毯可能会导致扫地机的边刷卡著。下单前可询问客服确定。

The sweeping robot is suitable for cleaning flat and hard surfaces (tile/marble/wood floors/short-haired carpets etc) Not suitable for users who have long-haired carpets at home, long-haired carpets may cause the edge of the sweeping robot to jam. Please enquire with the customer service before placing an order.
|Why MORSE|
✅After Sales Service
-Whatsapp +60183831316
-Monday - Friday 10am-5pm (Except PH)
✅Free Return Warranty Support
-If you're located in West Malaysia, we will assign courier service go for collect and check. (Only for 1st year)
✅Dedicated Support
✅0% Interest Installment
-Selected bank / 6-12 months
Find Us At:
Headquarters | Johor Bahru
16, Jalan Ekoperniagaan 1/27, Taman Ekoperniagaan 81100 Johor Bahru, Johor
Flagship Store | Pavilion Bukit Jalil
Pavilion Bukit Jalil, Orange Zone (Level 4 , L4.83.00)
Persiaran Jalil 8, Bukit Jalil, 57000 Kuala Lumpur, Wilayah Persekutuan, Kuala Lumpur