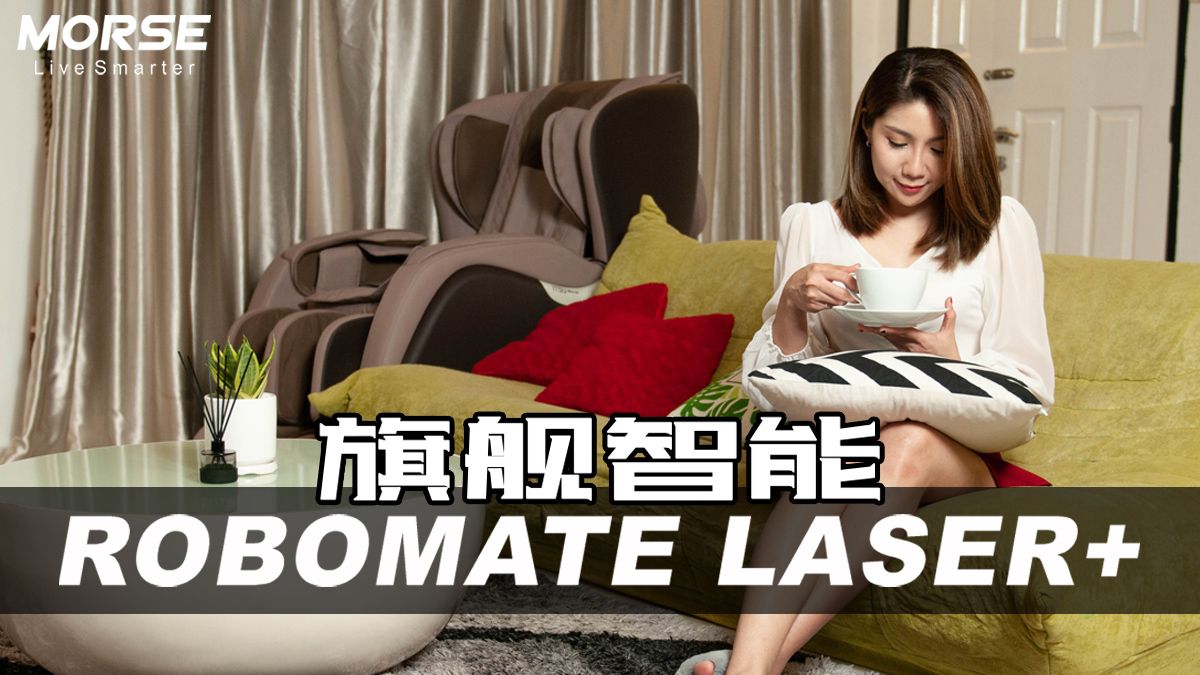 Morse R500 Laser + Robot Vacuum Cleaner
New Morse Laser+ Robomate R500 Robot Vacuum
Featured with new functions!
You do not have to think which suction types to pick from, you can have it both in the same time! No more dilemma!
It is now available in 2 suction types (roller brush / suction head)
-Roller brush suitable to pick up granulate size dust
-Suction head is suitable to pick up hairs / furs (does not stuck hairs/furs)
It also comes with new mopping mode, cleaning forward & backward at the same position which just act like human cleaning. This function makes the floor cleaner!
New AI technology (Laser), is implemented in this model Robomate Robot Vacuum as well! This allows the Robomate Robot Vacuum to map according to your house. You may also set prohibited area and arrange your Robomate Robot Vacuum to clean a specific area with a touch through our Morse Electronics App! You can even schedule your Robomate Robot Vacuum to clean your house before you reach home from work. This is so awesome! You do not have to hire any maid!
It also comes with anti-fall & anti-collision function, so that you don't have to worry it will fall from stairs or it will hurt your baby / pet / furniture.
This Robomate Robot Vacuum is user-friendly, it is made easily to clean your house & it is also easily for you to clean the dust box!
You may consider to buy one for your mom, so that your mom will not ask you to help her out doing house chores.
You can now enjoy your life without your mom nagging.
We have sort things out for you! Don't consider anymore! Make an order now!
Cute Mini Cordless Vacuum will be free if you purchase a Laser Robomate NOW!



MORSE最新推出了 #全马性价比最高的的旗舰机型 !!!


Robomate Laser+ 智能扫地机器人,打扫起来比人还干净!
你看不见的灰尘都可以吸到!
看到里面的灰尘你就会开始怀疑没有扫地机的日子是否也是那么肮脏呢
全新功能,让你对扫地机器人刮目相看
双吸口设计(你就不用考虑要哪一个吸口了,小孩子才做选择 我们两个都要!)
无论大颗粒的垃圾,还是毛发,都可以吸到一干二净
前后拖地功能(比你逼你的男朋友帮你抹地还来的干净)
加上可以调节水量功能,再强大的污垢都难不倒它
通过Morse App设定分区和禁区(这样你就可以坐在沙发像少奶奶这样叫kakak做家务了)
只需让它scan家里一次,之后哪里要扫,哪里不需要,手指点几下就可以了
防跌、防撞功能 (你也不用担心还要跟着扫地机看着它好像带着孩子这样)
根本不用担心会跌楼梯,也不怕家具或者私人用品被撞坏
扫了整个家,可是你只需要把垃圾槽拿出来倒就可以啦
这些功能是不是深深吸引了懒惰打扫的你
诶不是,我是说有扫地机帮你打扫了 你就可以享受生活做你爱做的事情了
你也可以顺便买一架给妈妈,她就不逼你帮她打扫了 也不用挨骂了
我们都帮你们想好了 你们就不要考虑了啦 快点下单了咯
现在还有买还有可可爱爱的送迷你无线吸尘机勒 还不快点来抢!